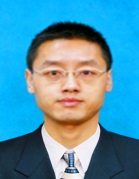 Prof. Zhiwei Wang, Hubei University of Technology,China
Wang Zhiwei, male, born in 1974 in Huanggang, Hubei Province, is a member of Chinese Communist Party, Doctor of Engineering. He is now a professor, Supervisor of Master's degree, and member of Chinese Mechanical Engineering Hubei University of Technology.

Education Experience:

1993.9-1997.6 studying in the Department of Machinery, Wuhan University of water resources and Electric Power (now Wuhan University) , with Bachelor of Engineering degree from September
2000 to June 2005.6 studying in the Wuhan University Power and Mechanical Engineering Institute, master of Engineering, Doctor of Engineering.
Working Experience:
1997.7-2000.7 Hubei Electric Power Company Hankou Electric Power Equipment Factory (now the construction of Hubei Electric Power Equipment Co. , Ltd.) work, assistant Engineer September
2005-may 2016 Hubei University of Technology Mechanical Engineering
March 2010-august 2010 Japanese Hokkaido University visiting scholar
January 2016-july 2016 California State University visiting scholar
May 2016-present, school of Hubei University of Technology Materials and chemical engineering
2016.12-2018.12 vice president of Technology of Hubei Yixing Intelligent Equipment Co. , Ltd. (6th phd Service Group of Hubei Provincial Committee)
2020.6-present, vice President of Science and Technology of Wuxue Changjiang Tools Co. , Ltd.