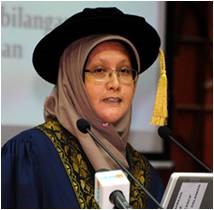 Prof. Sarani Zakaria, Universiti Kebangsaan Malaysia, Malaysia
Prof Dr Sarani Zakaria graduated in BSc (Hons) Chemistry from Bishop's University, Quebec, Canada (1987), MSc and PhD in Pulp and Paper Technology from UMIST, Manchester, United Kingdom in 1991 and 1994, respectively. Prof Zakaria currently is a Professor at the Department of Applied Physics, Faculty of Science and Technology, Universiti Kebangsaan Malaysia (also known as The National University of Malaysia). She has started her career as Research Assistant at the Chemistry Department, UPM (1987-1988) and Research Officer at Drug Centre, USM (1988-1989). Then, she was appointed as a lecturer at School of Industrial Technology, USM (1994-1995) before working in UKM.
Prof Zakaria is an expert in utilising bio-resources lignocellulosic materials especially from plant biomass in converting them into various high value-added products. Her research expertise focuses on the area of pulp and paper technology, wood plastic composites, bioresin, cellulose derivatives and regenerated cellulose with the combination of nano functional materials (organic and inorganis materials). Prof Zakaria has published her research finding in 223 research articles (>100 Q1) in the international and local journals and more than 150 conference proceeding papers, 12 Chapter in book, 6 books. She has filed 19 patents/utility in Malaysia (MyIPO) (14 with MY/Utiliti Number Granted).
Prof Zakaria has delivered research finding in many local and international conferences as planery, keynotes, invited speaker and as oral presenter. Prof Zakaria has supervised 57 PhD and 58 MSc postgraduate students and 5 Post Docs. Up to April 2022 her H index reported in Google Scholar and Scopus were 40 and 36 respectively. Her research citation in Google Scholar and Scopus were 5100 and 3388 respectively. She won the National Intelectual Property Award 2016 (bronze) and won 28 medals in the product exhibition and competition organized by local and international body (Gold, Best Award, Silver and Bronze), and many university awards for excellent service and in research.
Prof Zakaria was awarded World Top 2% Scientist – Career Long Citation Impact for Year 2022 and Top 2% Citation Impact in 2002, Global the Venus International Women Award 2017 (Distinguish Women in Science) and various prestigious research fellowships Prof Zakaria has established a very strong international research collaboration with various universities all over the world. Prof Zakaria was the Malaysian coordinator appointed by ERASMUS MUNDUS ALFABET program (the mobility grant) worth €3,007,075 collaborating with 7 EU universities and 11 Asian universities (2014-2018). The Erasmus+ project on Improving Malaysian HE knowledge towards a Wood and Funrniture Industry 4.0- Making 4.0 has been granted, involved 4 HI in EU and 4 Malaysian Uni + MTIB worth €947,450,000 (3 years-2019-2021). UKM received €141,731 from the total of grant received.